Mother's Day is right around the corner and, in honor of all the incredible mothers out there, I thought it'd be awesome to do a series of special posts talking about how to show your mom, wife, grandma, etc how much you love her and how much she means to you.
I want you to take a minute and think about your own mother; where would you be without her? What would you do if she were no longer here?
None of us likes to think about it, but everyone's time here comes to an end eventually and once that time is up, the opportunity to show your loved ones just how special they are to you is gone.
As I was growing up, I was always really close with my grandma. She watched out for me and was always there for my siblings and I. I hate to say it, but I just took it for granted that she'd be there for years to come.
She ended up dying from cancer when I was 15 and, every time I think about those last couple months, I regret not making sure I let her know how much she meant to me. I wish I had talked more to her about her own life and her experiences when she was growing up.
I wish I knew more of her history and what made her the person I knew and loved so much.
Since then, every time I see my own mother, I try to make a point of asking if she has what she needs; is there anything I can do for her.
I know that I owe everything I have and everything I am to my mom. She has always been there for me and she continues to be there for me.
When I feel like all hope is lost and I can't keep going, she is always there to lift me up and carry me through whatever challenge I'm facing.
Nobody can motivate me more than she can; nobody, including myself, has ever believed in me the way she still does.
***Get 30% off of Special Mother's Day Gifts @ PersonalizationMall***
Life is always rushing by, and we often forget to step back and appreciate what we have and the people in our lives. We fail to notice what our mothers do for us and how much they've sacrificed to give us the lives we have.
Let's use this Mothers Day to show all the wonderful women in our lives just how special they are to us! This list is for everyone.
It's for those busy moms who might feel like they have too much to do and forget that mother's day isn't just for them, but for their own mother's as well! (Yes I'm guilty).

It's for husbands who might be getting ready to make Mother's Day special for their wife but have forgotten about their own mom.

It's for kids, young and old, who  want their moms to know this year that they appreciate all they do for them!
Without further ado, here are some great ways to show your love.
1. Stop by to See Her
If you live far away from your mother, you probably don't get to see her more than a couple times a year, if that. This mother's day, skip the flowers or fruit basket and drive or fly to see her. Don't let her spend the day alone. Special days like Mother's Day are either the loneliest days of year or the most full. Make sure it's one your mother knows just how much you care!
---
2. Help Your Kids Make Her a Special Mother's Day Gift
If you have kids, help them make something special for mom/grandma this year. As you work on whatever it may be, tell them why she is speci
al. Tell them why you love her so much and what she has done for your family.
Doing this, establishes a bond between your kids and their mom/grandma and opens their eyes to things others do for them.  
If you need ideas for what to make, I do have some great options below.
You can also turn the kids hand prints and/or footprints into art like this example here that could be really special for her. This beautiful picture, and a lot more great ideas, are from Samantha at  Nifty Mom's.
---
3. Offer to Help Her Around the House Over the Weekend
Whether you live in town, or several states over, let your mother know that Mother's Day means something to you. It's the time of the year to show your her you love her and appreciate all the sacrifices she's made for you.
Instead of just flying/driving in for Mother's day, consider staying over for Mother's Day weekend and spending that time helping her with any extra chores she needs done around the house. There is always something she can use extra help with.
For example: last winter, several trees in my own mother's yard were blown over. Luckily they didn't hit any homes, but they did hit the fence separating her yard from her neighbor's . They're all way too big to pull out of the yard without first being cut into pieces so I spent several hours last weekend using a chainsaw (for the first time I might add 🙂 ) to cut the branches and stump into pieces that were small enough to haul out. It was grueling work! My back ached for days afterwards! It was great to help out though and we'll be there to finish up the rest this coming weekend 🙂
---
4. Plant Some of Her Favorite Flowers in Her Yard
Most mothers love flowers, they take pride in their yard and having it kept up and filled with beautiful flowers. So many
people send these to their mothers for Mothers Day but, this year, go the extra mile. Purposely pick out 2 or 3 of her favorite flowers and plant them somewhere in her yard. If possible, pick out some that will come back every year so they'll always be a constant reminder of how much you love her.
---
5. Take Her to Lunch
Even taking your mother to lunch can be a great way to show her you love her and appreciate her. Take her out to her favorite place to eat and let her get whatever she wants. Spend the time together talking about you favorite memories together. Ask her what she's working towards and if she needs any extra help around her home. Make the day about her; it is Mothers Day after all!
---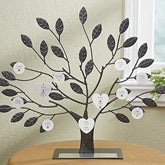 This Mother's Day, give your mother a gift that shows her the difference  she's made in the world. This beautiful family tree comes in a silver or gold color and can hold up to 50 names/events. Add any or all of the following:
Your Mother's Parents

The Day She Was Born

Each of Her Kid's Birthdays

Each of Her Grandkids Birthdays

Names and Dates of Special Events that Have Occurred in Her Life
Another great thing about this family tree is that, as important events occur, you can always add more discs to the tree. The discs can be customized to include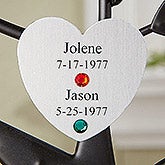 names and dates with birthstones as shown in this picture. 
**See How to Customize Yours on PersonalizationMall.com **
As I was looking for a gift for my own mom this mother's day, I saw this Family Tree and fell in love with it. It's something I know without a doubt she'd love.
It'd be the perfect mother's day gift for any mom! The one thing I would add to it, is pictures. I know that's hard to do with small discs but if you can find one or even make one that does, your mother is sure to love it!
---
I come from a long line of women who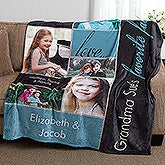 absolutely love making blankets for people! Just last year, I made more than a dozen blankets for friends and family members. I also received some. There's something about a personalized or handmade blanket that just shows someone you love them!
This blanket here is just incredible and can be customized to have whatever pictures/text you want on it. Pick out your favorite pictures of you and your kids, include a family picture . I'd recommend having the focal point picture be one with your family that also has your mother in it. 
Customize it with the words Happy Mothers Day, We Love Grandma,  or another phrase of your choosing and surprise your mom with it this mother's day! If you don't like the layout of this one, PersonalizationMall has several more templates available for you to customize with your own text and pictures. 
***See How to Customize Yours on PersonalizationMall.com***
---
8. Write Her a Letter
If you can't make it in town for the weekend or for Mother's Day, take a couple hours to write a real letter telling your mom how much you appreciate and love her. When I say a couple hours, I mean a couple hours. Tell her any or all of the following
How work/school/life is going

How the year has been, high points and low points

What you're working towards and hoping to achieve

Fond memories together

Memories from when you were young that you appreciate her being there to guide and support you

The qualities she instilled in you to make you who you are now

If you have a wife/kids tell her how they're doing

Tell her the next time you plan on visiting and how much you're looking forward to it
Put your letter together, preferably in your own handwriting. If you have have any kids, have each of them write a letter to Grandma as well. Use an ink-pad or paint to put each of their hand-prints on.
Include a personalized gift that will always mean something to her and remind her of your letter. PersonalizationMall has an excellent array of options from the family tree, fleece blanket, pillows, clothing, cups, pictures, and more! They also have a 30% sale on Mother's Day products purchased between now and May 1st!


Mail everything in time for her to receive it by Mother's Day and make sure to give her a call to let her know SHE IS INCREDIBLE AND YOU LOVE HER.
How do you show your mom how much you love her? What are your favorite Mothers day gifts? Let me know by leaving a comment below! Thank you for reading!
-Jessica
You might also be interested in
10 Special Ways to Show Your Wife You Love Her This Mother's Day
7 Great Mothers Day Gifts You Wouldn't Have Considered
Latest posts by Jessica Camden
(see all)