There are less than two weeks now until Mother's Day and many of us haven't even found a Mother's Day Gift for our own moms! I'm not gonna lie, I'm often guilty of waiting up until the last minute when it comes to buying gifts for special occasions.
Most of us will probably end up sending the typical Mother's Day gifts, flowers, gift cards, chocolates, perfume, gift baskets, etc. Maybe we'll take a few minutes and stop by to tell our mom's Happy Mother's Day or maybe not.
How long are any of those typical gifts going to last? How long is your mother going to remember them?
Well, how long would they last you? Flowers last a couple weeks, if you're lucky, and it's the same story for most of the rest.
***Get 30% off of Special Mother's Day Gifts @ PersonalizationMall***
Those of us that are mothers ourselves know that being a mom is the most demanding job you could ever take on and often, the most unrecognized. Even as we ourselves grow older, we fail to recognize the sacrifices our own mother makes/has made for us to have a good life.
Whether you're a husband, wife, father, mother, student in college, or even a child still living at home, I want to challenge you to do something extra special for your mom this year. Let her know just how much you love her and take the time to get her something special that she can use/have in her home for years to come.
That doesn't mean you have to go blow the bank and get the most expensive thing out there. If you're going to do that, just get her a gift card. At least that way, she can get something she needs.
The typical gifts I listed above will cost anywhere between $10-$80. All but one of the gift ideas listed below also fall in this price range but they'll always be a reminder to your mother of how much you love her!
Making blankets has been a tradition in my family for generations. It's been passed on from daughter to daughter for more than 100 years, I'm not kidding! There's just something special about giving/receiving a blanket that's been made/personalized that tells someone you love them and they're special to you.
If you don't know how to make blankets yourself, there are still dozens of options for you to create a custom,
personalized blanket with pictures and text for your mother. This blanket here is one of my favorites but there are dozens of other options that let you add 1-6 pictures, text of your choice, and more! To top it off, these blankets are incredibly soft and very high quality! They'll always be a reminder to your mother that you love her!
I would recommend having at least one picture on the blanket be a special photo with you and your mother or, if you have kids, your family and your mother. Remember it's a blanket to show your mom that she's a special part of your family and your life!
***See How to Customize Yours on PersonalizationMall.com***
---
This mother's day, take some time to write down some of your most cherished memories with your mother. Get a couple small cards and on each one write a special memory of your mother, why you love her, what she has taught you, or whatever else you'd like.
Have each of the cards laminated and use a small key ring to hold them together. Put the bundle into this beautiful, willow memory box and have it engraved with a special note to your mom. You'll pay about the same price you would have for a bouquet of flowers but as your mother reads each of those special memories, it'll mean so much to her and let her know you love her!
---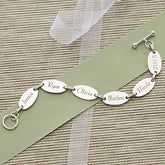 This bracelet has six discs that you can engrave names/dates/events on. You can add your mother and father at one end and each of her kids to the rest. Or you can add each of her grandkids to a disc.
Whatever you feel would be the most special to your mother can be put on it. I love gifts like this because it always feels like your family and the ones most important to you are with you. I have a ring with each of my boys names engraved into the center of it. I wear it everyday, and it really does remind me how much I love each one of them.
---
Things Remembered has an excellent selection of beautiful Mother's Day Gifts. One of my favorites, was this piece here which has the word Mom and in the center is a snow globe you can put a picture of your choice inside.
You can also add an inscription for your mother letting her know you love her so much and you appreciate all she has done for you! It's a beautiful gift that can be put anywhere in her home!
It also plays the song "I Just Called to Say I Love You" 🙂
---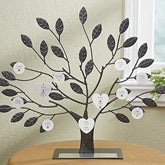 The second I saw this family tree, I fell in love with it! This is an excellent gift to show someone the impact they've made on the world. It instantly reminded me of my mother because she likes to have pictures/artwork that show her family displayed throughout her home.
She is very proud of her family and has told us hundreds of times that her family means more to her than anything. She has pictures of her grandparents, parents, every one of her kids, and each of her grandkids throughout her home.
I know that she, and any mother, would absolutely love something like this that allows you to put special events that have occurred throughout your life onto each leaf. It holds more than 50 names/events and can be a timeline for how your mother's family began.
You don't have to add every single disc to the tree right off. You can get just the ones for dates you've chosen for now, then as special events come up, additional discs can be made and added to the tree.
**See How to Customize Yours on PersonalizationMall.com **
---
Essential Oils Starter Kit
Whether your mother uses essential oils or not, they can be a great gift her for mother's day. Essential oils have dozens of uses and healing properties. They can treat illnesses, freshen up your home, act as natural remedies, and so much more!
If you're mother does use essential oils, restock some of the ones she's running low on. If not, get her a starter kit with a basic ultrasonic diffuser and 3-4 oils. In the past I've shied away from purchasing essential oils because they're so darn expensive!
However, about a year ago I came across an excellent place to buy them that sells only organic oils, for a family friendly price. Their motto is that people and quality are more important than profit and they live up to it! They have the biggest selection of essential oils I've seen anywhere and their prices start as low as $3.50 for some bottles!
Where is it? Mountain Rose Herbs. They actually have more than 40 oils that are less than $10 a bottle. Compare that to doTerra and Young Living who have a smaller selection with not a single bottle under $10. Places like Amazon don't count because most of the essential oils you'll find on there have been diluted so the seller can make a profit 🙁
The price isn't the only reason that I love Mountain Rose Herbs, it's just what makes it affordable for any home! These oils are 100% pure essential oils from reputable distillers and are an excellent/healthy alternative for scented candles/air fresheners. Some of my favorite starter oils are cinnamon, lavender, lemon, and peppermint.
---
Things Remembered has about a dozen different options for a beautiful snow globe to give your mother this Mother's Day. Some of them have flowers in, others can have a picture put in, and others have more intricate items placed in them.
They're very reasonably priced and each of them has a placeholder for an inscription of your choice to be added. It can be a brief letter/reminder to your mother how special she is to you and how much you love her.
Some of the globes light up, and others play music. Look through the selection and you're sure to find one that would mean the world to your mother!
---
What do you think of these mother's day gifts? What are you getting your mom for mother's day? Let me know by leaving a comment below!
Thank you!
-Jessica
You might also be interested in
10 Special Ways to Show Your Wife You Love Her This Mother's Day
8 Heartfelt Ways to Show Mom You Love Her this Mother's Day
Latest posts by Jessica Camden
(see all)